Users may configure IVR (interactive voice response) to greet callers, offer a predetermined list of menu options, and route callers to the appropriate extension. IVR is included free with our business phone service and can be set up from the control panel.
Here are the steps to configure IVR:
1. Log in to your account.
2. Click My Phone Numbers on the left-hand side of the page.
3. Click the Setting icon on the line that you would like to modify.


4. Click the Call Forwarding tab and select IVR.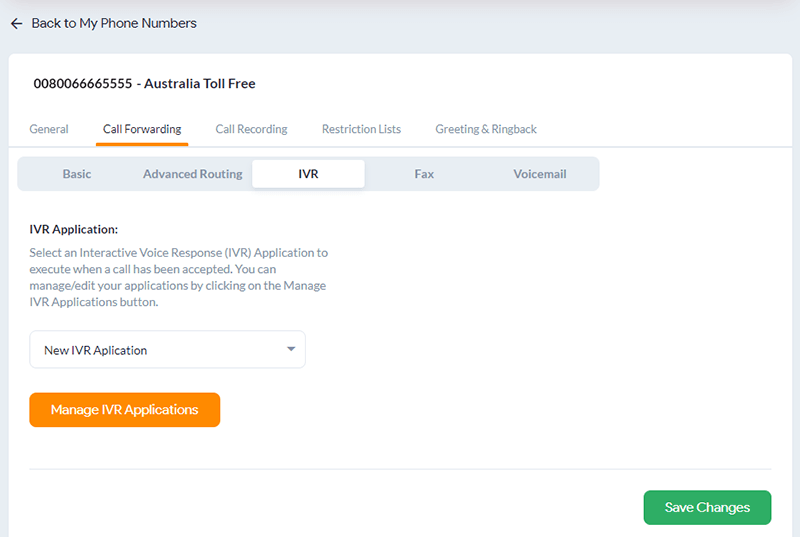 5. Click the Manage IVR Applications to customize your IVR processes in our IVR call flow builder.
6. Next, hover to the right side of the screen to upload prompts and add or create lists of phone numbers and email addresses in their respective tabs: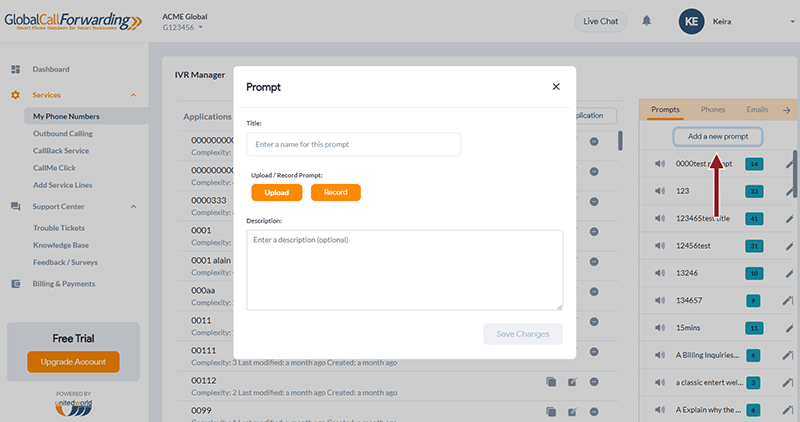 To upload prompts and voice messages:
Click on the Prompts tab and then Add a new prompt. Here, you can upload or record a prompt and voice message. This is what customers will hear when interacting with your phone system. You can include greetings, company information and updates, directional or navigational instructions, and more.
Pro tip: Save the new prompt with a descriptive and memorable title. Example: Opening greeting or IVR main navigation menu.

To add new phone numbers:
Click on the Phones tab and then Add a new phone. Here, you can create a list or hunt group with multiple destination sip or phone numbers. This can be your sales team in the head office or your remote customer service team located in a different country.
You can also choose what type of Ring Mode you want for this hunt group:
Sequential routing: Route calls down the list, always starting with the first in line.
Random routing: Route calls randomly to people within the list.
Simultaneous ringing: Route the incoming call to everyone on the list at the same time.
Pro tip: Save the title with a descriptive name such as Customer service team UK for your service team in the UK. If it is an individual, then save it as [name] + phone number + location.
Example: Peter phone number UK.
To add email addresses:
Click on the Emails tab and then Add a new email. Here, you can create a list with one or multiple email addresses.
Pro tip: Save the title of the new list as [name / department name] + email address.
Example: Peter email address or Billing email addresses. This way, you can potentially send incoming fax messages and invoices directly to your Billing directly.
7. Click on Create New Application and select User Menu to start building your IVR menu.

8. When creating the User Menu, you will need to include: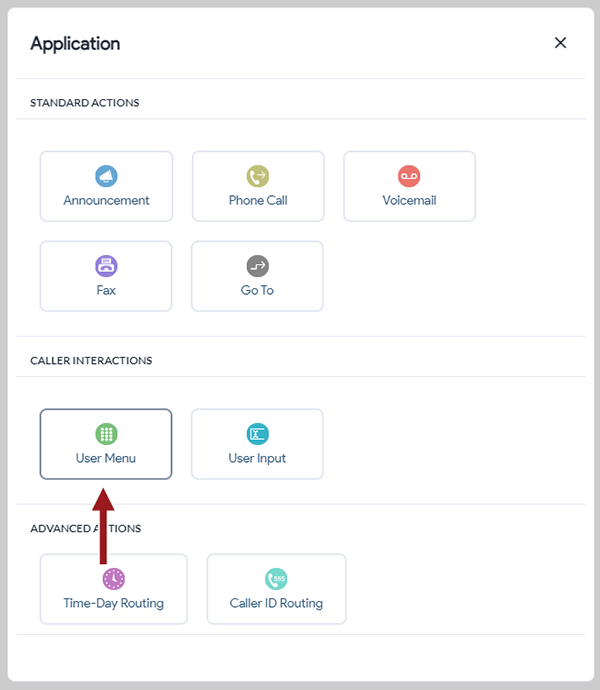 Prompt: A main voice message that welcomes the caller and gives them different menu options. Choose from the ones you uploaded or recorded earlier.
Interruptable option: Whether callers can or cannot interrupt the message played.
Maximum wait period: How long callers will have to wait.
Repeat: Number of times the message will repeat
Possible trigger for each key (number on the keypad): Choose from the different possible actions and triggers. You can assign each key (1, 2, 3, etc) to a specific target such as a hunt group, department, voicemail, list of email addresses, etc. Here is where you use the phone number and email lists you created before. These are the actions and trigger available:
Phone Call to send the call to another number, department, team or hunt group.
Announcement to play a voice message or announcement.
Voicemail to send the call to voicemail.
Time-Day Routing to send calls to specific locations or numbers during certain times of the day.
Caller ID Routing to send calls from specific locations and area codes to desired numbers or groups.
Example: #1 will send the call to the customer service department list. #2 will send the call to the billing department list. #3 will send the caller to voicemail.
Invalid: Choose what happens the caller presses the wrong key or number.
Timeout: Choose what happens when the message has repeated the desired number of times but no key was pressed by the caller. 
Example: Caller cannot find the right option within the menu so they don't press a key. You can send the caller to voicemail so they can leave a detailed message for assistance.

9. Click Close on the bottom right of the editor to save your rule.
Have more questions? Please contact us via phone or live chat. We are happy to help customers with their IVR setup.