You can set up ring groups and add hunt groups to your call flow in your Global Call Forwarding Control Panel.
There are two ways to add and use hunt groups with your business phone numbers:
Have incoming calls forwarded directly to members of your hunt group
Include hunt groups within your IVR system (e.g., customer service group, tech support HQ, etc.)
To forward all calls to your hunt group:
Once you sign up for our service, you can easily set up call groups in our online Control Panel. Here's how to set up a call group within your Global Call Forwarding account:
1. Log in to your Control Panel.
2. Choose a phone service line and click on Settings.

3. Select Call Forwarding from the horizontal menu and click Advanced Routing.
4. Click on the orange Go to Rules button.

5. Click the green Create a New Rule button. Add the description and select your desired days and times.

6. Select Forward All Calls and add your preferred call group phone numbers.
7. Then, choose your ring strategy under the Call Method section, either Sequential, Simultaneous, or Random.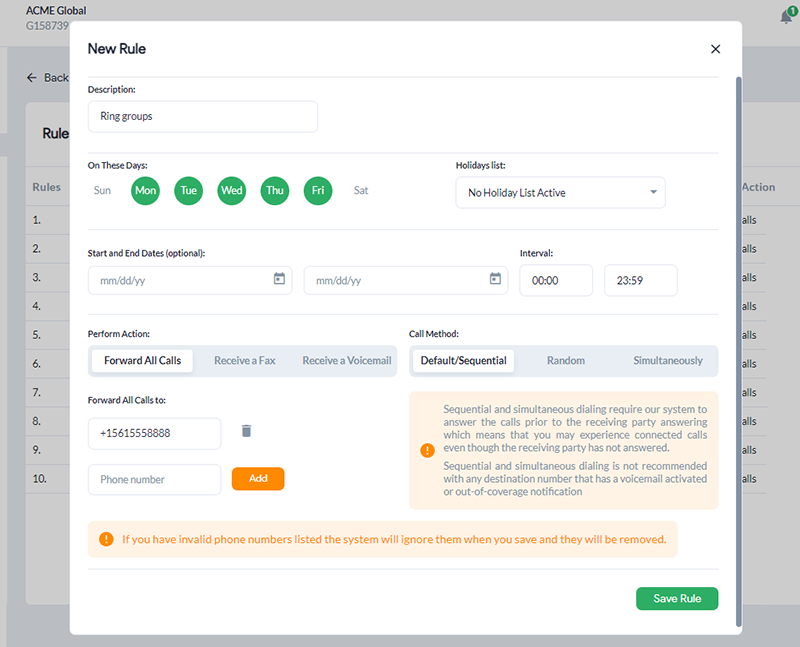 8. Click Save Rule.